BE FREE AS A BIRD

IN YOUR HIPPIEBIRD LIFE
BE FREE AS A BIRD
IN YOUR HIPPIEBIRD LIFE
Testimonials
Thank you. That necklace spoke to me and a feeling of peace washed over me when I saw it. It was like an ancestor telling me everything is going to be okay.

Carol
Thank you Julie so much for the fingerprint (LOVEPRINT) charm! I will love carrying a piece of Theo with me!

Christina Z.
Just wanted to share my awesome experience creating my fingerprint (LOVEPRINT) necklace and charm made by Hippiebird Life! The process was super quick and a quick turnaround too! They can do multiple prints on one chain, for multiple kiddos! Thanks Julie!

Tara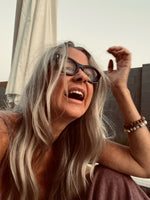 Hippiebird Girl
Julie is a ground-dwelling Hippie Bird. She caravans from one creative place to another, in her mind and surroundings. A true free spirit, she never looks for greener pastures, just more interesting places to nest.